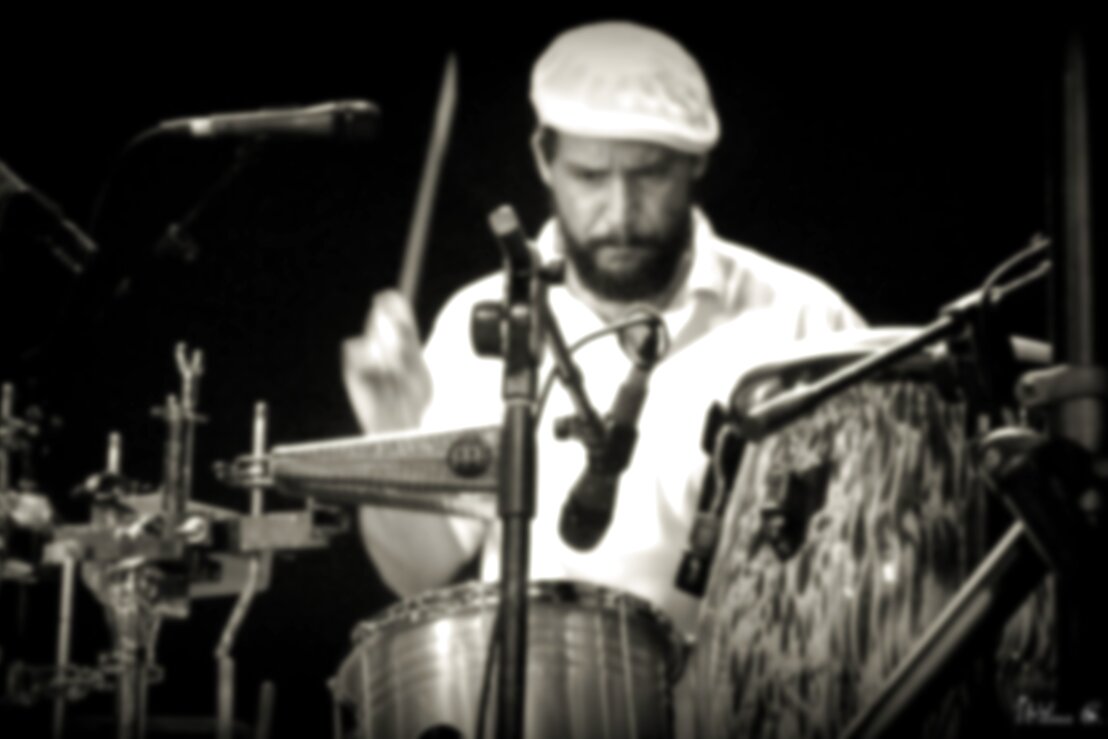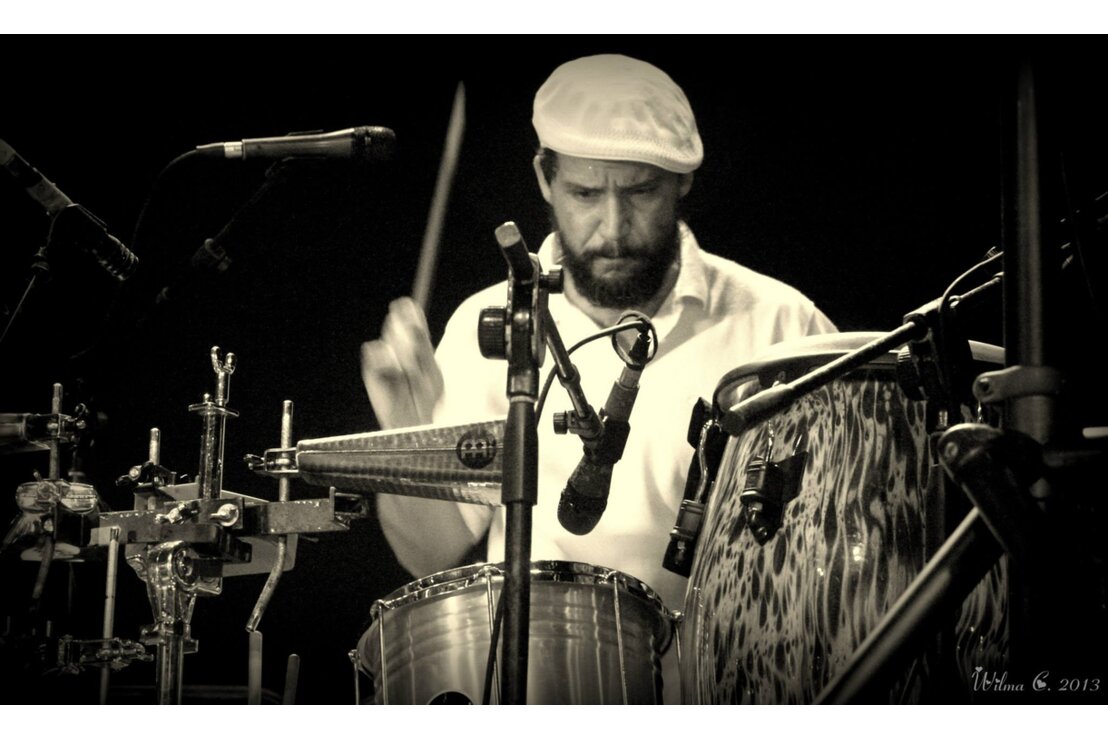 Copyright: Wilma Colón
Biography
Alberto "Beto" Torrens was born in Santurce, Puerto Rico in October 1971. Beto began his musical career with Batucada Baobá, alongside Anthony Carrillo, Luis Vélez and his mentor and teacher Fernando "Freddy" Díaz. He is a founding member of Bayanga (later Calle 13), with whom he recorded one album. Torrens has worked with bands and artists like Puya, Cultura Profética, Gomba Jahbari, Jerry Medina, Batacumbele, Brazuca Matraca (Barcelona), Macaco (Barcelona), Ricky Martin, De La Roots, Tráfico Pesado, Ricky Rodríguez, and La Descarga Urbana de Medina Carrión, among others.

Beto recorded in the Grammy nominated album "Urbano" by Elvis Crespo, and has contributed in recordings with De La Ghetto, Cultura Profética, Plenéalo, Fusión Jonda, Monsieur Periné (Colombia), Hurray for the Riff Raff, (NYC) La Tortuga China, Alegría Rampante, and others.

He is a member of Henry Cole & The Afrobeat Collective, with whom he recorded the critically acclaimed album "Roots Before Branches" released in 2012. Torrens is also percussionist and singer for Cole's new group Villa Locura The upcoming album titled "Simple" recorded in Electric Lady Studios will be released soon. With the Afrobeat Collective and Villa Locura, Torrens has played festivals in the Puerto Rico, Cuba, Italy and Unites States of America including Jazz at Lincoln Center. With Cole's groups, Beto has played and recorded alongside Jazz luminaries David Sanchez, Miguel Zenón, Piro Rodríguez, and Adam Rogers.

In 2012 Torrens performed at the Latin Grammy Awards in Las Vegas, with artist Sie7e, where the artist won a Grammy as Best New Artist. Beto has been a member of Sie7e's band since 2011, and since then has performed in Puerto Rico, USA, and Spain.

In 2011, he founded the Latin Rock ensemble La Quilombera with whom he has released two albums, "Quilombo y Barbarie" and "Hominifalombiucoccus Mastoidis Nefroliticus". He is also a member of Dj Velcro's (Rocksteady Crew) Acoustic Hip-Hop group Lado Ve. Torrens also recorded in Atticus Reynold's debut album "Ventana' released in 2017.

Beto Torrens is a founding member of the groundbreaking group IFÉ alonside Mark Underwood (aka Otura Mun), and Rafael Maya. IFÉ's debut album IIII+IIII was released in 2017 with raving reviews. It debuted #1 in both ITunes and Amazon's Electronic Music downloads, and reached #5 in the World Music Billboard Charts. Torrens has been consistently touring Europe, Canada, Colombia, Mexico, and USA with IFÉ, including prestigious festivals such as Montreal International Jazz Festival (Canadá), Paleó Festival (Switzerland), WOMAD (UK), Festival Musicas do Mundo (Portugal), Roskilde (Denmark), and many others.

In 2016 Torrens launched his first solo project bearing his name. Beto Torrens & BambulEX combines all of Beto's musical influences (Reggae, Bomba, Rock, Jazz, Plena, Afrobeat, Rumba...) with thriving beats leaded by the Puertorican "Bomba"or "Barril". Funky guitar grooves and heavy dub bass lines lay a bed for the saxophone and vocals to weave through the steady synchopated beats.

Beto is very active in the folklore scene in Puerto Rico, directing two folkloric ensembles, Bloco Afro Oxalá and La Liga Rumbera;as well as being a member of the groups Desde Cero, Tendencias, Los Majaderos de Cachete Maldonado and Grupo Carabalí. With La Liga Rumbera, Torrens has played in Chicago, Florida, and throughout Puerto Rico.

In 2018 Beto, alongside Rafael Maya created EGBE Records, and recorded, produced and released the album "Orgánico y Medicinal" by artist Totin Agosto "Arará" y La Liga Rumbera early January 2019. "Orgánico y Medicinal" achieved the #10 spot in the Top 20 charts of La Fundación Para la Cultura Popular de Puerto Rico. The second album is in the process, and should be released early 2021.

As an educator, Beto has given Master Classes in the Conservatorio de Música de Puerto Rico and Universidad Interamericana de Puerto Rico. Beto has also offered workshops at Liceo de Arte y Tecnología, Segundo Ruiz Belvis Cultural Center (Chicago), and The Nash (Phoenix, Az), Paris, Tempe, AZ., Barcelona, Canada, and teaches weekly classes in his studio in San Juan, Puerto Rico. In 2019 Beto received a Residency at Arizona State University to talk and teach Bomba in the School of Music. In February 2020 he offered workshops and a Masterclass of Rumba and other Afro-Caribbean rythms at The New College of Florida, Sarasota.

Beto Torrens plays exclusively Meinl Percussion.
Country: Puerto Rico
Band: ÌFÉ
facebook
instagram