Francesco Fasanaro, is a multi percussionist and drummer, born in 1995, in Salerno, Italy.
He has held concerts and shows in many theaters and stages in Italy and abroad. For several years he has been teaching percussion in primary and elementary schools with the project "I colori della Musica".
Drum Circles
He holds drum circles in different contexts, he actively collaborates with centers for autism and other disabilities. Last, not least, he has held percussion workshops for two years in the most difficult neighborhoods and realities with children at risk.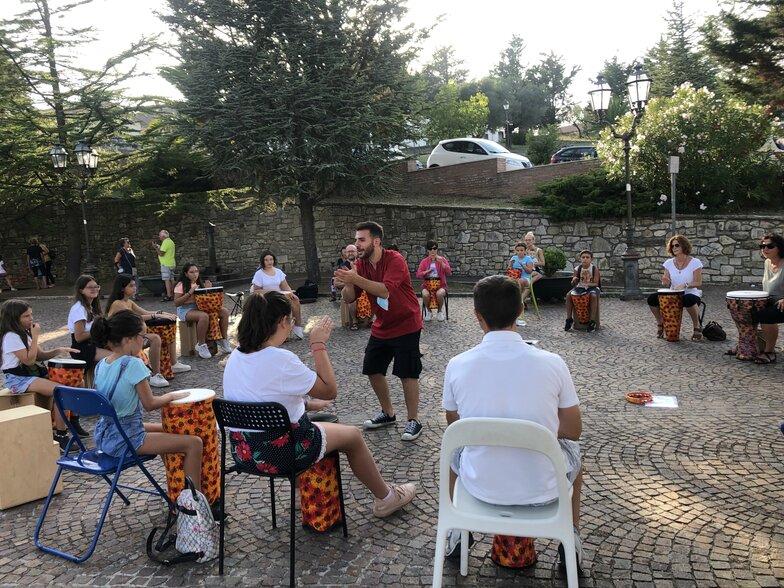 Francesco graduated in 2019 with a degree in World Percussion and Jazz Drum at Conservatory of Music "G. Martucci" of Salerno with Paolo Cimmino. He also studied at the University of Music and Performing Arts Of Mannheim with Josè J. Cortijo. Furthermore, he pursues his studies in these years with teachers such as Gaetano Fasano, Davide Cantarella, Felice Marino, he also participated in numerous masterclasses with famous musicians such as Alex Acunha, Benny Greb, Peter Erskine, Ramon Porrina, Israel Varela, Nabankur Bhattacharya, Leo Di Angilla, Tullio De Piscopo, Valter Paiola, Marco Fadda, Gilson Silveira, Lorenzo Gasperoni, Arnaldo Vacca, Giovanni Imparato, Peppe Sannino.
In 2020 he began his music therapy studies at the "ISFOM Music Therapy Training Institute" of Naples.
Passion for Percussion
Thanks to his father, who's a drummer, too, Francesco approached and enhanced the world of drums at a very early age when he was only four years old. The first real encounter with world percussion took place in 2005, when he was 10 years old, during a drum circle called "Girotondo di Tamburi" organized in Salerno by Gaia Colosimo and Gaetano Fasano.
The emotions and sensations experienced that day remained indelible in Francesco's soul. Since then his desire and main goal have been to make all the children and the adults who participate in his drum circles and percussion workshops experience those same sensations.