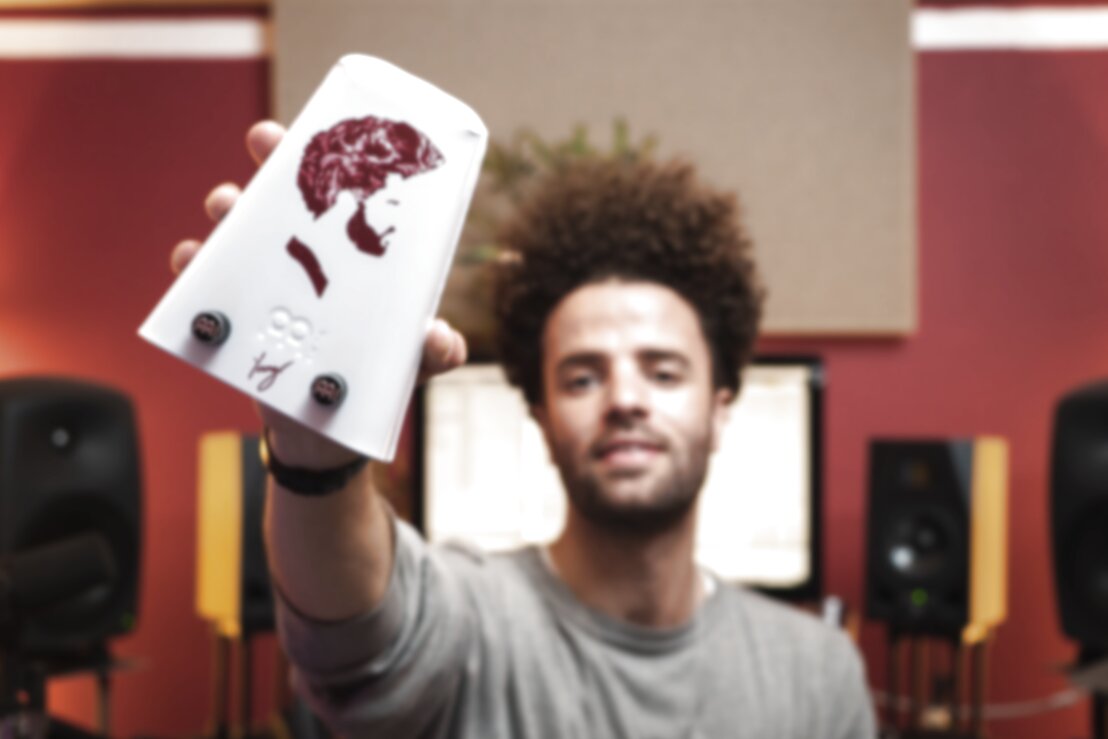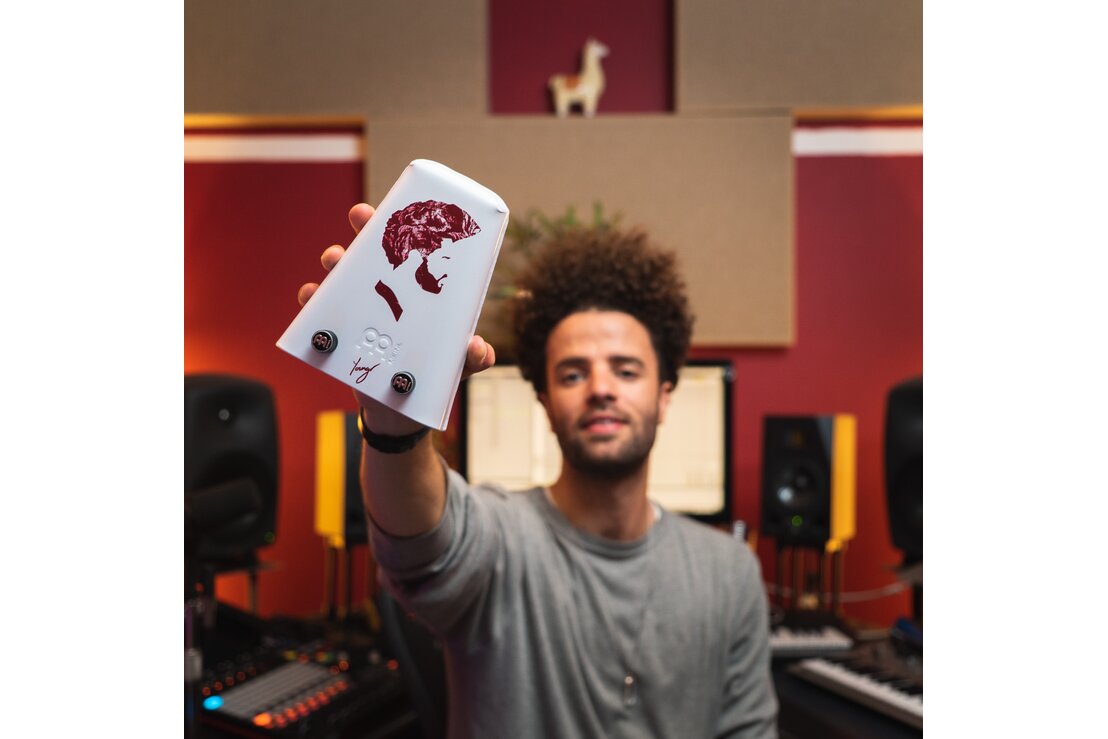 Copyright: Michael Rosenfeldt
Biography
Dario Darnell wouldn't be where he is now if he'd grown a little bit more. At school he was a prodigious basketball talent, playing on a national level, with his eyes set on playing professionally. "But then I got to 13," he laughs, "and all my mates shot up, and I stayed the same size!" So, instead, he fixed his sights on music, and – though it's been a long and peculiar path from there to his current success as Youngr, with millions of YouTube views and dedicated fans all over the world – hasn't looked back.

Then again, it feels like music would've taken over his life one way or another. It's literally in Dario's blood: his dad is August Darnell aka the mighty Kid Creole. Though his parents split up when he was three, and Dario and his brother were raised by their mother in Manchester, their dad was a big presence in their life, taking them on tour in the summer holidays. "We'd go from normal struggles and stable life in Manchester," he says, "with beans on toast for tea, to watching Dad from the side of the stage!"

Some kids of musician parents try hard to differentiate themselves, but Dario is proud of his roots. He'll happily show you a video of himself as a tiny kid, wearing a zoot suit like his dad ("I used to wear one three-piece suit in the day," he says, "they insist on changing into a different one for dinner!") and playing the drums. Both he and his brother Lorne picked up every instrument they could lay hands-on and were jamming in the basement from as early as he can remember. Even when basketball was Dario's focus, they never stopped playing music.

They loved growing up in Manchester, but being right next to the Old Trafford stadium, Dario developed a strong distaste for the clichéd Mancunian machismo he saw in the supporters that marched past. "I became Anti-Man United, anti-Man City, anti-Oasis, anti-Stone Roses," he says, "I didn't want any part in that view of Manchester. I always felt a bit more 'global' in my mind, and I liked music that spoke to the whole world." He grew up loving the most universal of pop music – Michael Jackson and Prince – but ironically his very favorite band was Simply Red, who he never realized until much later actually came from his home town too.

Once music fully took over his life at 13, Dario was 100% focused on it – writing and practicing every day, and eventually getting into the Liverpool Institute of Performing Arts. He kept playing in various bands with his brother, who would swiftly move to Liverpool too to keep up their collaborations and generally get involved in the scene. It might be hard to believe to anyone who's met Dario or seen him perform, but he was the shyer of the two – he recalls his dad bringing them both on stage as kids: Lorne danced with abandon, but Dario stood at the back and cried – so Lorne was always the singer, with Dario at the back on the drum stool.

LIPA was the perfect environment to try out ideas, with someone new to collaborate with around every corner. Dario compares it to the X-Men's academy: "People with powers developing them, dueling, testing their strength!" The brothers formed Picture Book, a trio – "which meant I was drumming at the side instead of the back, getting a bit closer to the front," he smiles – and started getting attention outside just the local scene. They were even picked by Coca-Cola to tour for the London 2012 Olympics and ended up performing their reworking of Mark Ronson and Katy B Olympic Anthem in front of 80,000 people in Hyde Park. However, eventually, Picture Book started to stall, and so the brothers formed a new, larger band.

This band, Stony Browder JR, was named after the boys' late uncle, who'd been the creative force behind their dad's first band, Dr. Buzzard's Original Savannah Band. It was a proud nod to their family heritage of flamboyant performance. "It was a nine-piece crazy band," says Dario, "all percussion, jungle drums, wild music, but we couldn't find a vocalist. I'd demoed the vocals on our recordings, so eventually, my brother said 'why don't you do it on stage, bro?'" A few rehearsals later, and a flamboyant star was born – with frilly shirts, dramatic hats, and 50 gigs in their first year, Dario was starting to realize his destiny.

It wasn't easy going, mind. He was earning money however he could through his music: not just gigging with the band, but playing covers in bars for £50 a night. Then one night, he got home from one of these sessions and fired up his Ableton production software. He pulled out a Calvin Harris vocal from a sample pack and decided he was going to build a new version there and then. He worked through the night and filmed a video of himself putting all the parts into their final form. He threw it online without thinking, but it immediately exploded around the world.

As the online remixes – still filmed in one take with a phone gaffer taped to the wall as the camera – kept amassing views, Dario finally decided that it needed total focus. By this time he'd moved to London and he started using the name Youngr. After continued success with reworkings of songs by Pharrell, MNEK, and Daft Punk, he nervously decided it was time to try doing the same with his own songs. Gloriously, the popularity of the videos kept going up, and the responses from fans on the comments just got more complimentary.

Buoyed by this, he put out his first Youngr single proper 'Out of my System' in the summer of 2016 – but he didn't give up on the cover versions, though, and released his rework of Temper Trap's Sweet Disposition alongside it. These two together very quickly made waves way beyond the substantial YouTube following he'd already built. His version of Sweet Disposition racked up no less than 15 million plays online in just a few weeks, and Radio 1 and Spotify both jumped on board with enthusiastic support for 'Out of my System'.

The exponential viral success could've been too much for some – it even led to him getting to tour South America, where his fan base was vast and crazed. He had to be hustled out of airports, protected by bodyguards, and everywhere was surrounded by hundreds of kids trying to get him into their Snapchats. "I think if this had happened when I was first trying to make it," he says, "it'd have just been too weird for me – all this just on the basis of a few videos. But thankfully, I've had all that time working and gigging, I think I've got my feet on the ground, and I think I'm ready for it now!"

He'd better be ready for even more success, mind. With his first official Youngr single now over 15 million plays on Spotify and counting, it looks like the constant upwards trajectory he's been on since he first had to give up his sporting ambitions at 13 isn't going to stop soon. But this product of the hyper-modern world – conquering the world on a wave of computer clicks, worshipped by kids as a "YouTuber" – is also a very traditional musician, inspired by his father and by a generation of proper pop stars, and with skills honed through years of practice and paying of dues. So there is no doubt at all that he's got what it takes to build on what he's achieved so far. He might have been working for years already, but his ambitions to make 'global' pop are undimmed: Youngr has only just begun.
Country: United Kingdom
Band: Youngr
facebook
instagram
youtube