Luis Ribeiro - 5th Sep, 2019
This is a summary of Luis Ribeiros Day at the Meinl headquarters in September 2019. His goal was to produce two high-quality performance videos using Meinl Percussion instruments. Luis is currently the multi-percussionist of the "World of Hans Zimmer Tour" show.
I woke up at 04:30 in the morning to take the flight at 06:15 from Vienna-Austria to Nuremberg-Germany. I arrived at 07:30 and took the train from Nuremberg to Neustadt a. d. Aisch.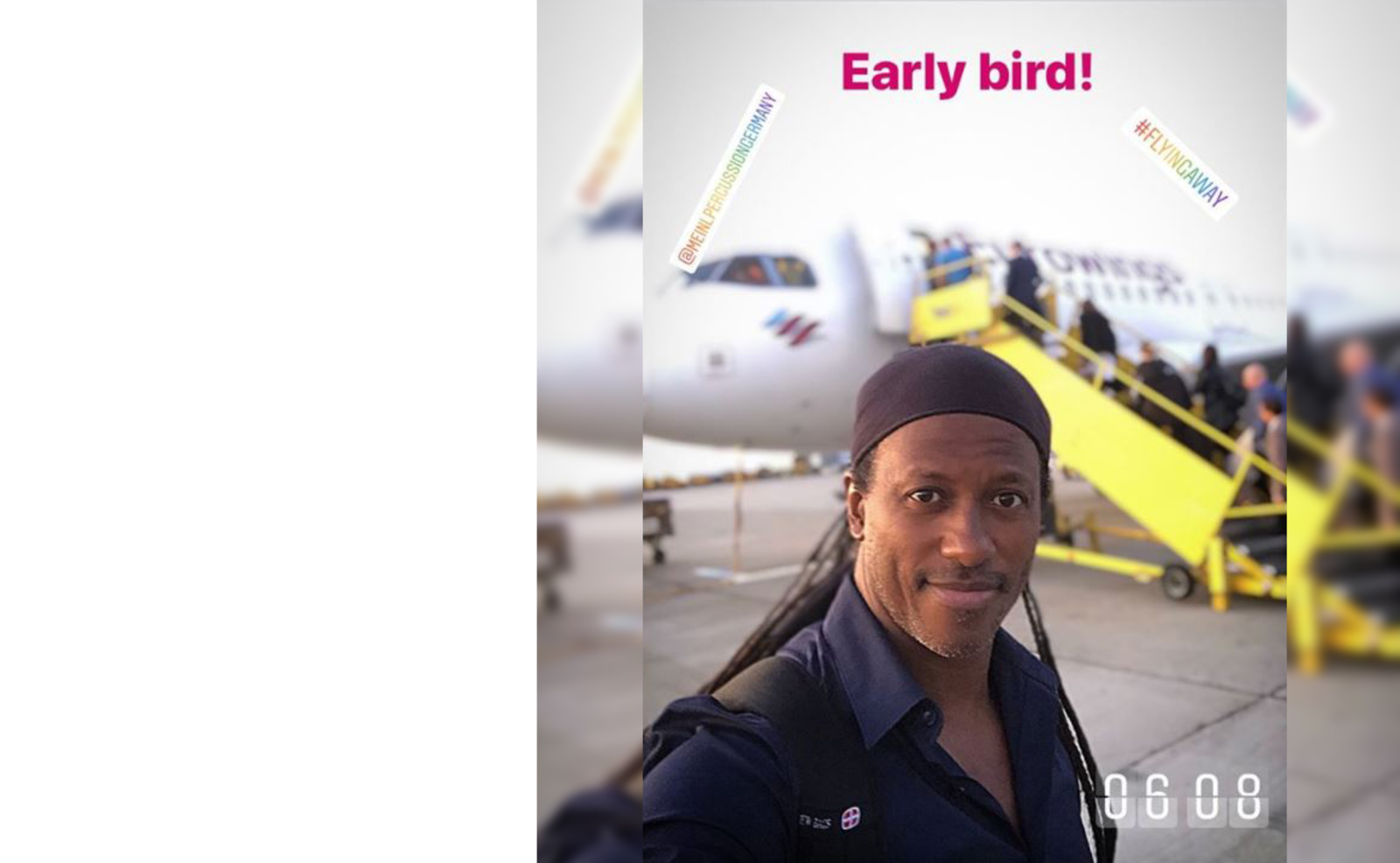 At the train station, the Artist Relations Manager for Meinl Percussion, Hannes Auerochs, was waiting for me, so we drove to the Meinl Headquarter together, having a nice conversation in the car.
After we arrived, I was very impressed by the new Meinl buildings. As far as I remember, now it was time for the first selfie of the day with Hannes! Hahahaha
We went inside the headquarter and after having a delicious coffee together, I slowly started to wake up! :-)
I was introduced to Quentin Brandt, a very nice person and an extraordinary video and photo expert within the Meinl Percussion Team.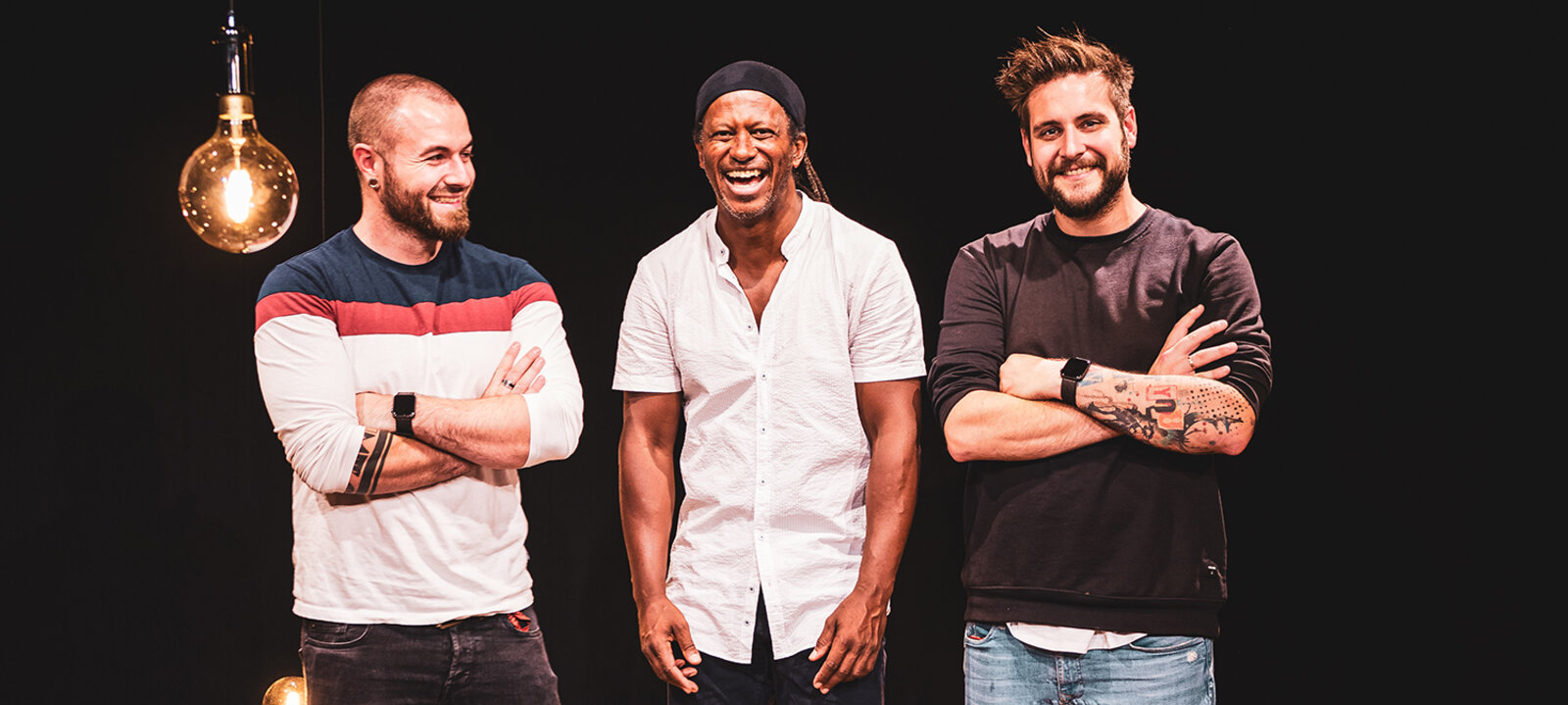 While we were still at the office, talking about the schedule of the day, Hannes started to bring some new Meinl instruments that were not yet introduced to the market.
I completely freaked out and started to play all instruments - one after another - like a child in a playground!

I felt in love with so many of these instruments and so we made some spontaneous shots right in the office! :-)
After that, it was time to go to work and record the two tracks I had prepared for this day. We went to the audio and video recording studio.
It is difficult to express this very special moment in words. I was so impressed by this studio and every little detail involved in this recording process.
Starting from the backline… I sent a list with the instruments I would need for the recording and Meinl made available more than what I asked for, so I was able to build a fantastic percussion setup even beyond my expectations.
I spoke at least 30 minutes with Quentin and Hannes about the light, the cameras and the studio concept. It was such a great atmosphere and I felt so well in that room!
After a quick and relaxed sound check we started to record. I had a great sound in my monitors, the light was great, I felt good and we all were enjoying that moment very much!
Then, Jim Busch, the second Artist Relations Manager of Meinl Percussion, joined us at the recording session. From now on, he assisted the recording session.
I recorded the tracks I had prepared and after that I also recorded some more extra tracks for tambourine, pandeiro and cajon. We were in a flow!
The Meinl Percussion Team
Finally, we made some group photos to celebrate the great job. I think it is a kind of Meinl ritual after the recording session! ;-)
In the afternoon, I was accompanied by Jim, he showed me the whole Meinl showroom and I could try different and new instruments that I never had played before. I just loved it (again…)!!!
We took some more spontaneous shots. I could have played these instruments forever. hahahah…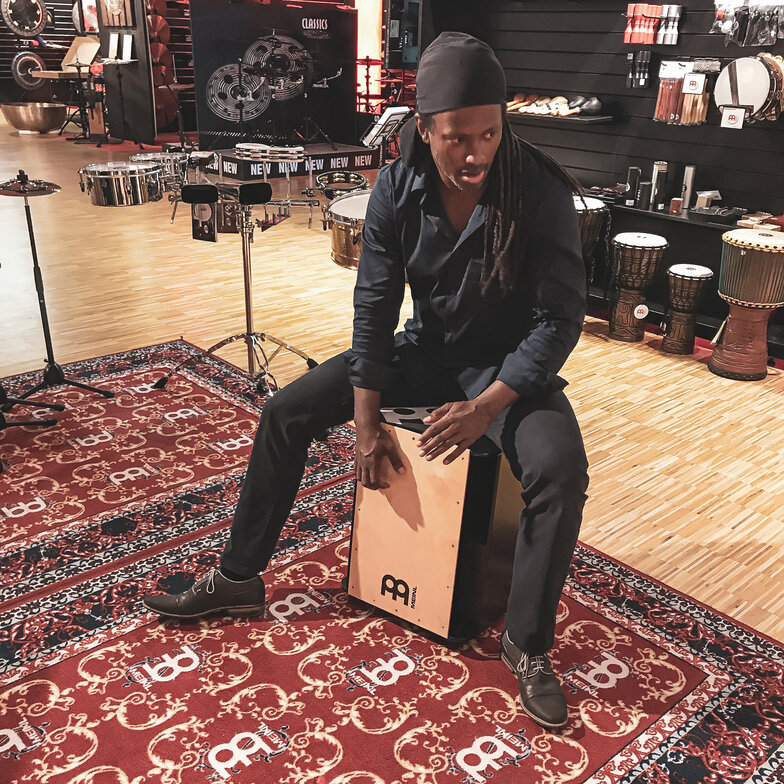 Now, I was very hungry. It was time to get some food.
Jim brought me to an excellent restaurant, it was a nice sunny day and I ate very good and very much, while having a nice and friendly conversation with him.
on my way back home
After that, Jim brought me to Nuremberg airport and I flew back to Vienna.
I was very tired, but feeling so happy and glad that everything went well.
This recording session was so unique. That day will stay in my heart forever as an memorable Meinl Recording Session! Thank you, Meinl crew!
It was a hard day, but the result is wonderful. Just watch these tracks
Luis is using the following MEINL Percussion instruments:
AESELCB - Artisan Edition Cajon - Canyon-Burl
SU22-L - 22" Surdo
PBASSBOX - Pickup Bassbox
MDST10BK - 10" Drummer Snare Timbale
MPE1BK - High Pitch Percussion Block
MPE2R - Low Pitch Percussion Block
WKTR11NT - 11" Kachiro Thompson Conga
WKTR1134NT - 11 3/4" Kachiro Thompson Conga
WKTR1212NT - 12 1/2" Kachiro Thompson Conga
The Seventh Love (Original)
Luis is using the following MEINL Percussion instruments:
PA10CN-M - 10" Pandeiro
PA10ABS-BK - 10" Pandeiro
AESELCB - Artisan Edition Cajon - Canyon-Burl
SU22-L - 22" Surdo
PBASSBOX - Pickup Bassbox
MDST10BK - 10" Drummer Snare Timbale
MPE1BK - High Pitch Percussion Block
MPE2R - Low Pitch Percussion Block
WKTR11NT - 11" Kachiro Thompson Conga
WKTR1134NT - 11 3/4" Kachiro Thompson Conga
WKTR1212NT - 12 1/2" Kachiro Thompson Conga
FCA5-L - Foot Cabasa